http://www.apc.univ-paris7.fr/APC_CS/en/home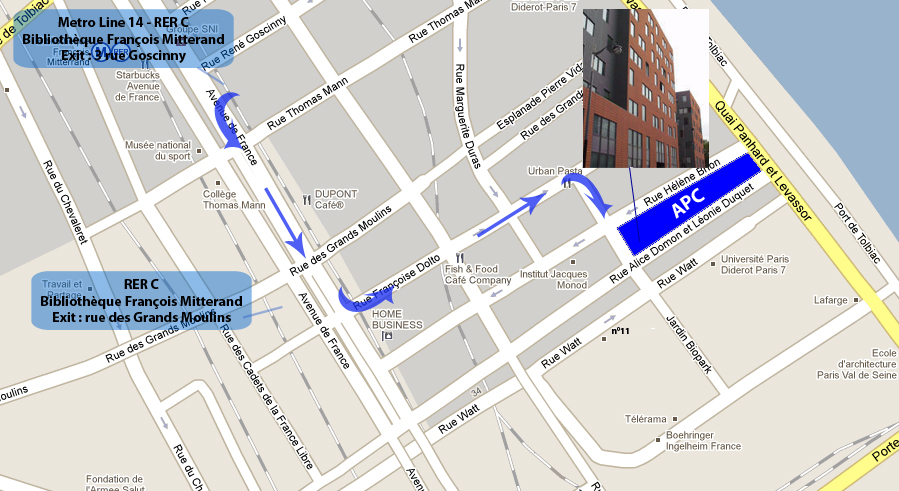 Access
RER line C / Metro line 14 Station Bibliothèque François Mitterrand (5 min walk from APC)
Exit 3 – Rue Goscinny
Bus 62 Tolbiac Carpentier
Maps:
http://www.apc.univ-paris7.fr/APC_CS/files/Laboratoire/quartier_APC.jpg
Belambra Paris " Magendie "
2/4 rue Magendie
(corner with 6 rue Corvisart)
75013 Paris
ISAPP accommodation package includes a single room (TV + telephone*+ bathroom with shower + WC) and a buffet breakfast (from 7 a.m. to 10:30 a.m.). A free Wi-Fi area is available in the public areas.
At the heart of Paris, Belambra Paris " Magendie " is located on the left bank of the Seine in a peaceful and quiet environment, close to the picturesque Butte aux Cailles and the Latin Quarter, the heart of student life, with its inimitable atmosphere and from Montparnasse, the traditional painters' district.
Access
Metro line 6 Station Glacière or Station Corvisart (5 mins walk)
Metro line 7 Station Les Gobelins (10 mins walk)
Bus line 21 Station Glacière-Arago or Glacière-Nordmann
Transportation
Sunday to Thursday: 05:30 - 01:15
Friday to Saturday: 05:30 - 02:15
Maps
Interactive map of the Paris Metro/RER network
Maps of the Paris Metro network with streets.
More information
RATP: http://www.ratp.fr/en/ratp/c_5000/accueil/